20 Nov

Sister Spotlight: Jane Rosen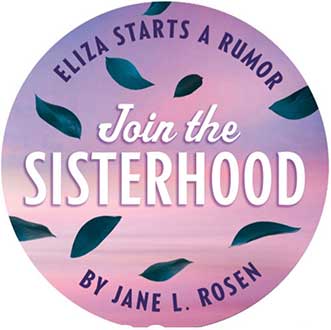 Jane Rosen, an alumna from the Delta Xi chapter at The University of Maryland, published a new book this year! Eliza Starts a Rumor is a story centered around sisterhood. Jane attributes a great deal of what she learned about sisterhood from her undergraduate experience in Delta Phi Epsilon. Reflecting on her experience, she stated "Being in a house with so many different women from all of the country was eye opening -our similarities always far outweighed the differences." To this day, Jane feels a special bond with her chapter sisters and knows she can depend on them to have her back.
Eliza Starts a Rumor is a fast-paced story of four women coming together to face their pasts and forge their futures. Through sharing their secrets, betrayals and triumphs, they emerge renewed in this joyful celebration of female friendship. Eliza Hunt has a big problem—since her twins left for college she has barely been able to leave her Hudson Valley home. Desperate for connection, she invents a salacious post on a local bulletin board. But is there more truth to it than she knows? Olivia York, a young mom across town, thinks the scandalous story is about her marriage. Alison Le, a single mother navigating life with a newborn in a new town, finds helping Olivia easier than facing her own relationship problems. Amanda Cole, Eliza's childhood friend, returns from LA amidst her husband's #MeToo scandal. She may just hold the key to why Eliza can't leave the house. All it takes is one rumor, and four lives will never be the same.
The four main characters each bring a different set of life experiences to the book. Jane gained inspiration for the characters from her friends and DPhiE sisters. She stated that she "tapped into aspects of the characters of the women in my own sisterhood. I thought about how they dealt with the ups and downs of their lives, and how much better they handled things when they were able to depend on one another."
Her inspiration for the begin by wanting to tell a story that dove into the shared female experience. Like many women, Jane spent too much time scrolling through online groups just as in the novel. She stated, "Sometimes I jump on and just get lost in them, sometimes I comment, sometimes I get caught up in an intense back and forth between members, and sometimes I seek out other women's advice on a topic I need help with." After connecting with other women in this department, she realized she wasn't alone. The quick reply and interest in online women's groups inspired her to write Eliza Starts a Rumor.
The novel is centered around sisterhood, so we asked Jane to share her favorite DPhiE memory:
" It was the 80's so we did everything big—big hair, big homecoming floats, big football games, big theme parties and crush parties and formals. It all began with a big pledge night where the pledge class was sent on a massive scavenger hunt in the DC area while the sisters prepared the house. I was part of the group sent to Georgetown where we were instructed, amongst other things, to get our hair sprayed purple and our make-up done at a famous punk rock store, Commander Salamander. On our way home our car died right in front of the White House. With nowhere else to go we went to the gate and asked for help. At this point we were late and as you can imagine, that was our biggest concern. We forgot all about our punk rock hair and make-up. The Marines that stood guard were quick to remind us and even called up the then Vice-president George Bush to take a look at the crazy co-ed's with purple hair. They put our car in press parking, got us a cab and even wrote us a note on White House stationary for our pledge captain explaining why we were late. If I remember correctly, they weren't impressed!"
For sisters who dream of writing their own book, Jane encourages you to "write your first draft like no one is reading it and don't stop until you are done.Then rewrite, rewrite, rewrite. And then show it to one of your sisters for an honest opinion!"
Jane's novel can be purchased anywhere books are sold, but she has partnered with her local bookstore, McNally Jackson, which can be purchased here. Any purchases made from McNally Jackson will receive a signed copy of the book along with a special Join The Sisterhood pin while supplies last!
Join us in January for The Eliza Starts a Rumor Book chat with DPhiE alumnae and author, Jane L Rosen.