11 Jun

Arleen Kruger Honick Scholarship – Honoring the depths of sisterhood.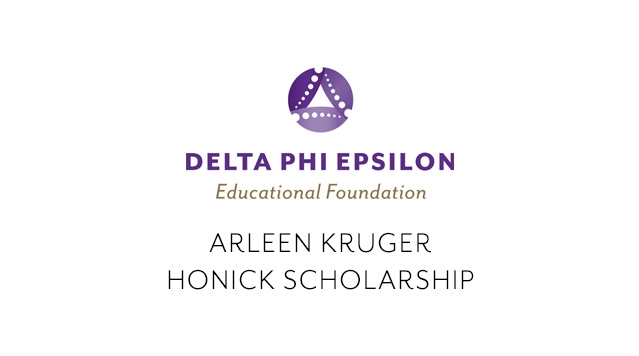 Arleen Kruger Honick, Psi Chapter at the University of Georgia is one of our sisterhood's most prolific leaders, volunteers and supporters. Adding to her years of dedication to Delta Phi Epsilon, Arleen's commitment has reached even greater heights recently with the Arleen Kruger Honick Scholarship named in her honor. This scholarship, which began last year honors Arleen for her dedication to DPhiE through volunteering and serving as past international president.
The journey to having a scholarship in her name started with the blossoming relationship she felt for our sisterhood while in school. Had it not been for the sorority, Arleen said she would have considered even withdrawing from school. But DPhiE provided a sense of belonging with sisters who would help her flourish.
Arleen reciprocated with that love by becoming a leader within her chapter and as an advisor when she graduated. Her devotion took her to the highest rank of service to the sisterhood when she joined our Executive Council, now known as the International Governing Board (IGB) as the vice president of rush and pledge programs. She subsequently served as president.
Arleen continues to serve the sisterhood as a member of the IGB and always has a kind word and helpful advice for all who need it.
Recipients of the Arleen Kruger Honick Scholarship must be undergraduate members of the Psi Chapter at the University of Georgia, Honick's home chapter.
For more information on how you can apply for this scholarship visit www.dphiefoundation.org.