26 Feb

Black Canadian Women you Need to Know About!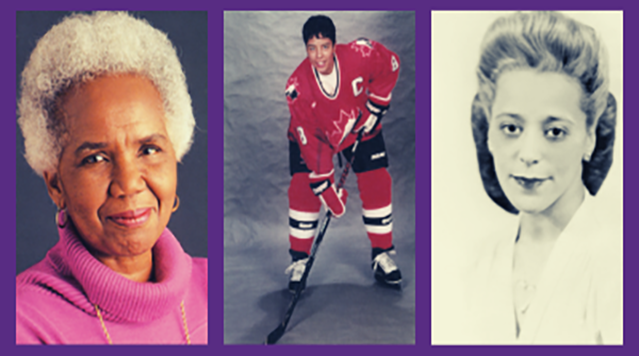 The following article was written by Natasha McDonough, a member of the Zeta Epsilon chapter at Carleton University.
Delta Phi Epsilon chapters all across the US and Canada collectively pride ourselves on the values our womxn hold. Our pillars: Justice, Sisterhood, and Love unite all our members, regardless of race, ethnicity, sexual orientation, ability, and cultural/religious belief. These pillars encourage us to be our best selves through internal growth. Focusing on areas such as scholarship, sisterhood, self [improvement], and social [relations] – our 5 "S's" – members reach goals and empower one another, contributing to the betterment of our communities.
During Black History Month, acknowledging as many of the courageous Black women who have challenged adversities and demonstrated resilience carries importance, as well as remembering that these experiences continue to shape how our members associate the 5 S's to our lives. The greatness attained by many Black women throughout history is far beyond our wildest dreams. In this article, we'll be acknowledging [a few] Black women both past and present, who lead monumental changes/advocacy initiatives in Canada.
Rosemary Brown
Rosemary Brown embodies our values held in the areas of Scholarship and Service. Born in Jamaica, Rosemary immigrated to Canada in 1951 to pursue post-secondary education in the field of Social Work. Rosemary Brown was a determined woman, despite facing racism and sexism at a young age, she preserved working as an advocate, politician, philanthropist, and activist. After obtaining her Bachelor of Arts undergraduate degree as well as her Master's degree both in the field of Social Work she worked for social welfare organizations such as Children's Aid Society. At this time, Rosemary dived into her passion for activism, pursuing endeavors with the British Columbia Association for the Advancement of Coloured People and Voice of Women. As touched on earlier, Rosemary was also a strong, accomplished, and fearless politician in Canada, known for being the first Black woman elected to the Canadian Provincial Legislature, which she accomplished in British Columbia. For individuals interested in Canadian politics, her name may be recognizable, as she ran in the 1975 Federal election, leading the New Democratic Party. Rosemary had always had an internal fire driving her to engage in political advocacy, even before her more known accomplishments. As a Black woman analyzing politics with a feminist perspective, she had an insightful grasp on the changes necessary in Canada. Rosemary started notably in the 1960s, beginning to use her voice on a wider scale. With power, she pushed back against the oppressive higher governments in Canada that contributed to racism, sexism, discrimination, and the absence of basic human rights for marginalized communities. The positive impact Rosemary Brown had within Canada did not go unnoticed. She received many awards in later years, including fifteen honorary doctorates awarded from universities in Canada, the Order of British Columbia in 1995, and being selected as an officer of the Order of Canada in 1996.

Angela James
Any avid hockey fan will recognize this name: Angela James. If you're not a hockey fan or you're someone who enjoys watching the game instead of memorizing every player and their statistics, we'll be diving into James' history as she became the "Wayne Gretzky of Women's Hockey." Angela James was one of the two first women, the second Black (but the first Black woman) hockey player, and the first openly gay hockey player to be inducted into the Hockey Hall of Fame. Her success was not obtained easily, and at a young age faced racism and poverty. Angela was born in Toronto, Ontario, raised by her mother, along with her six siblings. Her passion for hockey started when she was 8-years old when she began playing street hockey in Flemingdon Park, the neighborhood where she grew up. Growing up in a low-income household, in a mostly white and impoverished neighborhood, she faced many barriers. Angela struggled in school, witnessed unspeakable dangerous situations within her neighborhood, and often would fight with other girls – usually due to being a Black woman. Angela coped by concentrating on her passion for the sport. She has expressed publicly that the game of hockey acted as her "escape" and her "savior" from all the negative situations. She started playing in a local boys' hockey team, but unfortunately, that ended (a decision was made by overlooking an official that didn't allow girls to play on boys' hockey teams), forcing her to play in a non-local women's hockey league. Her mother went the extra mile to allow her to play the game, sometimes traveling long ways by bus, but Angela strived for greatness and went off to set records playing college hockey. Angela was known as a well-rounded player, and her skill level contributed to her being coined as the first woman superstar in hockey. Angela James won World Championships but was not on the roster for the 1998 Olympic team because her strength at that time was compromised by Graves' Disease. Nevertheless, Angela James' influence goes far beyond hockey, setting scoring records, or winning medals. At the core, Angela's journey is not one of a kind; other Black women can relate to the adversities faced by Angela, and therefore Angela James' and her life experiences serve as a reminder that race, gender, sexuality, upbringing, etc., determine what one can accomplish, and success can come from the harshest of adversities. Within Delta Phi Epsilon, one of the areas where our members strive to excel is "self", which can be described as cultivating physical, emotional, and personal improvement. The resilience shown by Angela James represents "self", constantly working towards improvement to reach her goals, no matter the barrier in her way.

Viola Desmond
She's the face on the Canadian ten-dollar bill and a leader in the civil rights movement. Viola Desmond fought against racial injustice with strength and conviction. Growing up, Viola's family were active within the Black community and respected members of many organizations in Nova Scotia. Viola aspired to be an accomplished businesswoman, an example set by her parents and wished to go to beauty school. At the time, beauty schools located in Nova Scotia did not allow for Black individuals to enroll, regardless she continued to pursue her goal by enrolling at a beauty school in Montreal. Later, she would further her education, relocating to practice her skills in New York and Atlantic City. Viola's persistence would aid her in reaching her goal and find success in creating beauty products that were sold out of Desmond School of Beauty Culture, which she founded to allow Black women to access beauty school training that was seldomly available to Black women in Canada at that time. The success that Viola worked for would be ultimately be halted, at the hands of racial discrimination when she attended the Roseland Theatre to see a movie, waiting for her car repairs to be completed, while on route to attend a business meeting. The theatre refused to sell her a main floor ticket in the movie theatre, as the main floor was reserved as a "whites-only section." Although racial segregation was not outwardly permitted by Canadian law, the practice of separating based on race existed and justified through other unrelated laws. Regardless, Viola decided that she was not going to comply with a practice enforcing racial discrimination and chose a seat on the main floor. The manager approached Viola, claiming that he had the right to refuse admission, and requested that she leave the main floor, but Viola refused by arguing that she had already been allowed admission when she was sold her ticket. Viola offered to exchange the ticket for a main floor seat, and pay the difference, but instead, she was forcibly removed by authorities, arrested, and subsequently charged with tax evasion. Viola Desmond endured a series of trials within many court jurisdictions, supported by the Black community in Nova Scotia, but all attempts to overturn her conviction produced unfavorable results. The racial injustices that Viola endured were the catalyst, fuelling the civil rights movement in Nova Scotia. Needless to say, Viola's unwillingness to conform to segregation practices set an example for Black communities to demand equality and use their voice to inspire change. The elemental features present in the values that Delta Phi Epsilon womxn seek to uphold are reminiscent of Viola Desmond's effort to achieve racial justice. From pursuing our education to meet our aspirations, the collective desire to support our communities through philanthropic endeavors, and creating bonds founded on similar beliefs empowering women; the 5 S's members actively engage in to improve ourselves, people we know, and our communities, can to some extent reflect the essence of Viola Desmond.
Sources: 
https://humanrights.ca/story/one-womans-resistance
https://www.britannica.com/biography/Viola-Desmond
https://www.thecanadianencyclopedia.ca/en/article/viola-desmond
https://www.pc.gc.ca/en/culture/clmhc-hsmbc/res/information-backgrounder/Viola_Desmond
https://www.sportsnet.ca/hockey/nhl/isnt-wayne-gretzky-womens-hockey-better-known/
https://www.hhof.com/htmlinduct/ind10James.shtml
https://theundefeated.com/whhw/black-history-month-angela-james-first-black-woman-in-the-hockey-hall-of-fame/