20 Jan

Using Her Voice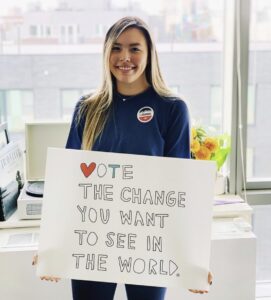 The 2020 presidential election was historic. With a record number of first time voters, it will be remembered for a lifetime. One of those first time voters was our very own, Natalie Vang Jensen (Alpha Chapter).
Born in Japan and raised in Bangkok, Natalie made the move to attend New York University in 2011 on a student visa. The summer of her Junior year, she was accepted for her green card. Five years later, she was eligible to apply for United States citizenship. She relied heavily on the support from her DPhiE sisters and friends to learn all about American history. "New York University is known for having lots of international students so it was great to see so much diversity and have the support of my sisters." In a courthouse in New York City on December 13, 2019 Natalie took her citizenship test.
With the 2020 presidential election just around the corner, Natalie could not wait to use her voice. The importance of having a vote and using your voice is something that should never be taken for granted. Natalie shared, "You've got to dig deep, educate yourself on what matters to you from the bottom of the ballot to the top. Not just in the presidential elections but all elections." Natalie even brought her fan base of family and friends to cheer her on after she cast her vote!
"As someone that was not able to vote, it is so important to realize that voting is a privilege, right and duty." It is a chance to speak up for your community and others who may not be able to do so.
This year showed us that nothing can stop us from casting our vote and using our voices. Stay up to date on your states local elections to ensure you don't miss your opportunity to take a stance.
Natalie Vang Jensen is an alumna from the Alpha chapter at New York University. She currently resides in Brooklyn, New York. If you are looking for a new book to read, in her spare time Natalie runs a bookstagram, follow her at @nataliesbookclub on Instagram.